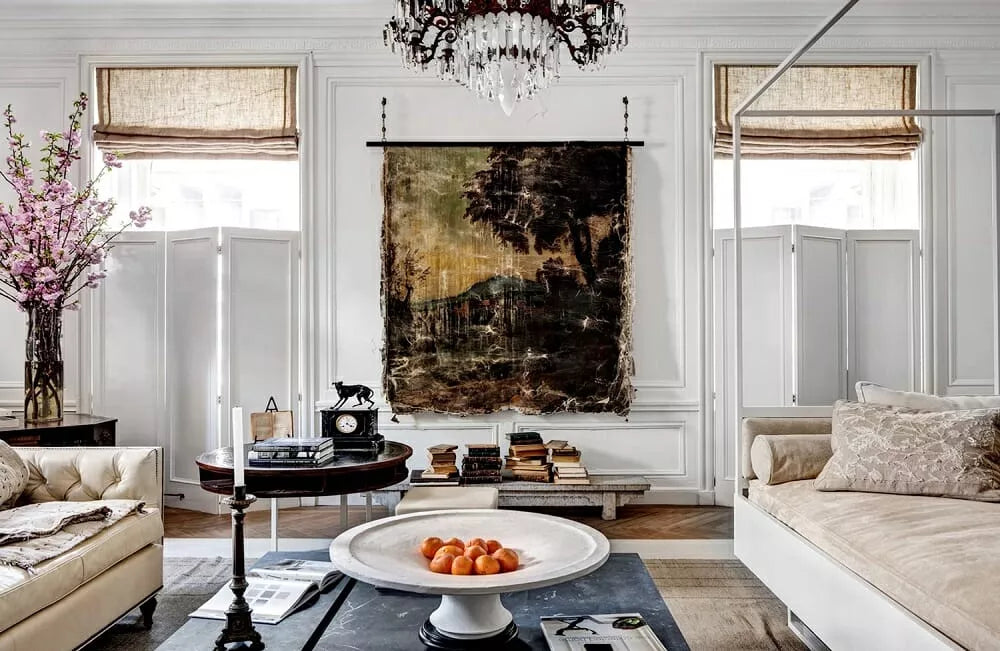 Aside from being the epicenter of political waves, DC is the site for ever evolving culture, music, design, and food. It stands on its own as home of monuments and memorials, eclectic neighborhoods, and true local flavor. For Washington DC interior designers, it's the playground that inspires beautiful work that highlights East Coast innovation. 
yZiGN Interiors
Among the best of Washington DC interior designers, yZiGN Interiors has made quite the impact on the local design scene. yZiGN's signature style is modernized classicism in which they bring the influences of art, architecture, and fashion to blend with the client's desires. The results are outside-the-box interiors with traditional foundations adorned in modern eclectic accompaniments.
yZiGN is the Boutique Interior Design Studio specialized in creating signature interior designs.
Iwona Petrov and Alex Petrov are Co-Founders and together run this versatile high-end firm. Their team of designers enjoy working with clients who are looking for something unique. Something different to compliment their personality and style.
Iwona and Alex founded the company in 2010 and for the past 10 years have worked with clients in the Washington metro area and around the country. The yZIGN aesthetic is rooted in a broad spectrum of experiences and elevated by a spirit of inclusion and warmth, that's informed yet approachable. The two pride themselves on being the editors of your story. Each space defined by its owners' individual perspective and lifestyle. The result, imaginative environments are created that are thoughtful, personal, and quietly comfortable.
 Alex and Iwona Petrov on the picture. 
Hannah Goldberg
For starters, Hannah delivers affordable interior design in Washington DC that doesn't lack in style or quality. Evident among her designs are her years of experience in luxury design, from multi-family, to commercial, and now residential interiors. As she works, Hannah is sure to give equal importance to the aesthetic of a space as well as the functionality. In the end, each design pleases the eye while also meeting the needs of each homeowner's lifestyle.
Kerra Michele
Leading one of the top interior design firms in Washington DC, Kerra Michele is as experienced, accomplished, and recognized as they come. Not only do her designs pack a serious punch, her expertise has also been sought after by the likes of Room & Board, West Elm, and The Shakespeare Company. Additionally, Kerra believes that design can transform one's entire life and completes charitable projects locally and abroad. She also empowers her local community through her co-working studio, BUREAU, which provides a workspace that inspires. In this sense, Kerra's passion and values shine through in any project she undertakes.
Marika Meyer
Marika Meyer is a DC interior designer that wants her client's to feel right at home in their newly refreshed spaces. And for this reason, she created her namesake design firm in 2007. Rooms by Marika deliver sophisticated elegance that is still livable and welcoming, in additional to being personal to the homeowner. Furthermore, she's also launched a textiles line inspired by her passion of painting to provide fabrics that serve as the foundation of a room. This drive and success has led to the firm's work being featured in numerous local and national publications including Luxe Magazine and The Washington Post.
Heather DiSabella
More than just beautiful designs, Heather DiSabella also believes in creating spaces that "make you feel at ease and inspire you to be the best version of yourself". And in using her 15 years of experience to her advantage, she's able to easily accomplish this for her clients. In addition, designs by Heather are thoughtfully curated to become as functionally pleasing as they are aesthetically. It is certainly no wonder that she boasts all 5-star ratings among Houzz interior designers Washington DC.
Mariella Cruzado
Among other accolades, DC interior designer, Mariella Cruzado, has been named one of the 'hottest young designers' by Modern Luxury, as well as a 'Style Maker' by Better Homes & Gardens. And these titles fit her and her work well. At her studio, Splendor Styling, Mariella delivers striking interiors in her signature style. These spaces exude depth, mood, and texture that make her designs one of a kind. Mariella puts it best "people should be able to live their fullest, best lives, surrounded by beauty and inspiration".
Lisa Shaffer
Lisa Shaffer and her team at Lisa & Leroy are determined to give each client a design experience as amazing as the final product. Unlike many other design studios they're able to handle projects from construction through to the final interior finishings. Therefore, Lisa and her team are meticulous throughout every step of the way, which certainly shows in the end results. The spaces created by Lisa & Leroy deliver on all fronts, from comfort, to beauty, and personality.