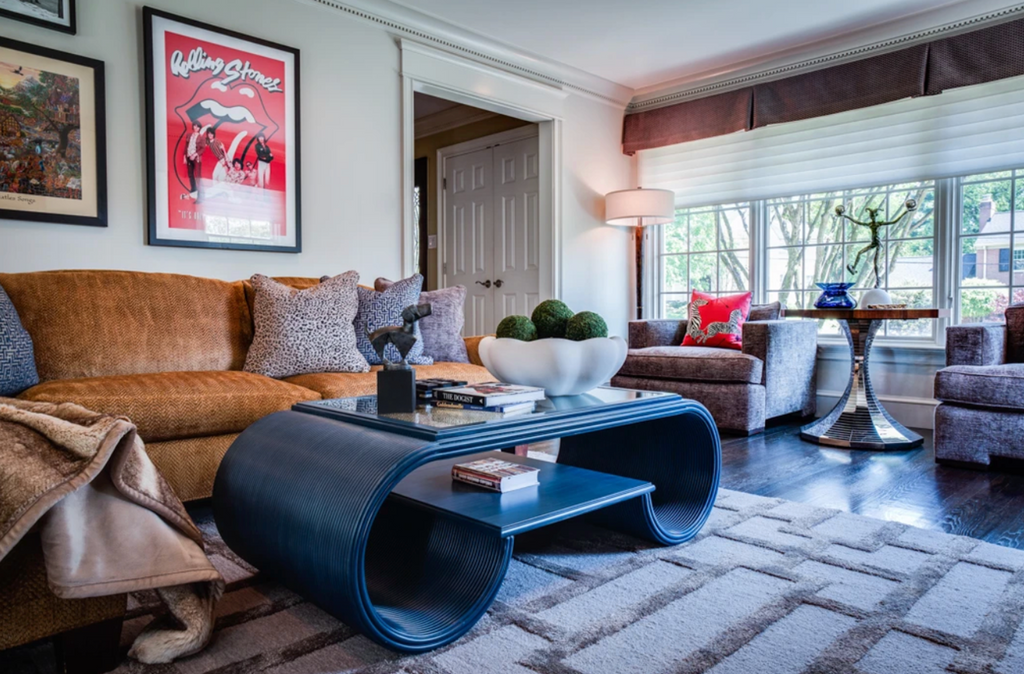 How Homes are Evolving Post COVID-19
There is no doubt that the pandemic has impacted every industry, including interior design and home services companies.  With so many of us working from home and home schooling our children, more and more people have become focused on the spaces within their home.  From interior design layouts to outdoor living spaces, many are shifting toward comfort and simplicity in designing multi-use spaces within their home. 
Iwona pointed out that as they work with clients, they have noticed a consistent desire for 3 factors – their clients want their space to be fabulous, fun and functional.  Since we are not able to go out to our favorite restaurants or head down the street to our neighborhood coffee shop – our homes have had to do some heavy lifting.  From entertaining us 24/7 to comforting us on harder days – our productivity and well-being is directly connected to our surroundings at home.  
Prior to Covid, we may have started our day at Soul Cycle, been inspired during a client meeting downtown, or met up with friends for a late afternoon lunch.  Now many of us are cycling outdoors or in our home gym, hosting client meetings via Zoom from our home office, and expanding how our homes live with reimagined indoor and outdoor living spaces.   During these challenging times, families have become more connected to their homes and have made changes to their homes so that they can experience stress-free and happy moments together. 
This is why we sat down with Iwona Petrov and Alex Petrov, Co-Founders of yZiGN, a boutique interior design firm located in Bethesda, Maryland.  Alex said that yZiGN has had one of their busiest years in 2020 as they worked with clients in the Washington DC metro area to evolve their homes. 
The Family Room + Kitchen Remains the Heart of Every Home 
"The family room and open kitchen have always been a central location in many homes.  However, since the pandemic they have increasingly become the heart of every home," said Iwona.  "We have been busy creating more spaces within the family room.  It is no longer enough to just have a sofa, end tables and coffee table.  You now see a game table, reading nook, a sofa with lots of pillows for comfort and unwinding after a long day," Iwona continued.
From a personal restaurant to coffee café and even a quick tutoring class – kitchens are working overtime and are fast becoming a new favorite hot spot.  Grabbing lunch with your family around your kitchen table mid-day has become a treat.  And, cooking has become a bit more fun as families gather together more often.  With so much happening in this central location – the family room and open kitchen have taken center stage.
Owners Suites + Kids Bedrooms
Not only are multi-use spaces important in the family room, but they are equally as important in the bedroom.  Seating and relaxation areas have long been an added space within Owners Suites.  However, they have not been used as often as they have this past year.  "We are seeing these spaces used daily since the pandemic," Iwona said.  "From enjoying a latte in the seating area to creating a home office in the same space, our clients Owners Suites have been flexing to serve them differently and they are grateful for the refresh."
"Many clients have also added workstations to kids bedrooms to create a quiet space for kids to Zoom with their classrooms and to work on their studies," Iwona said.  yZiGN has also added quiet reading nooks within bedrooms, hanging chairs, built-in spaces and playrooms off the kids bedrooms.  "Kids are needing a space to help them feel calm, inspired and comfortable," Iwona continued. 
Creating Family Fun in the Basement                                                                   
Basements have often been regarded as a man cave, a kids playroom, a movie theatre and/or a home gym.  Clients are finding ways to make their basements more multi-use as well.  "It's easy to create multiple spaces in a large basement with separate rooms," Alex said.  "What makes it a bit more challenging is when you are working in an older home with a smaller basement – but, we are finding a way."  You can always add a Peloton with light weights near the kids play space or add a craft table to the man cave area.  With families coming together they seem to be embracing these multi-purpose spaces throughout their home.
 More Thoughtful Purchasing Decisions                                                                         
Alex was enthusiastic as he shared how their clients are being more thoughtful and purposeful in their purchasing decisions.  He said that their clients are more conscious of wanting to support local businesses and that recycling and the exploring of local businesses that are selling unique pieces and/or secondhand items are at the core of their philosophy as they are looking to design their spaces.  "It's a win-win," Alex said because it supports local businesses and it gives the homeowner the immediate gratification of having their furnishings.  Alex also mentioned that they work with many clients to incorporate their current furniture with some new pieces.  "You do not have to start from scratch when deciding to work with an interior designer," Alex mentioned.  "Our team loves when a space feels like it's been accumulated over time and not just impersonally thrown together.'  
When the latest trends have nothing that inspires you, Iwona and Alex said they encourage their clients to become a little braver and to look deep within.   They like to pull out their personalities of their clients – find what is of interest to them, what are their hobbies, how do they react to colors and what art inspires them.  Iwona said that they often tell their clients not to be a stranger in their own home.  She encourages them to make it fun and personable.  "We believe that autobiographical rooms never go out of style," Iwona continued.  And, we have to agree.
Looking to collaborate with our interior design studio - connect with us at 301-718-8774 or Hello@yZiGN.com.  We would welcome the opportunity to work with you!