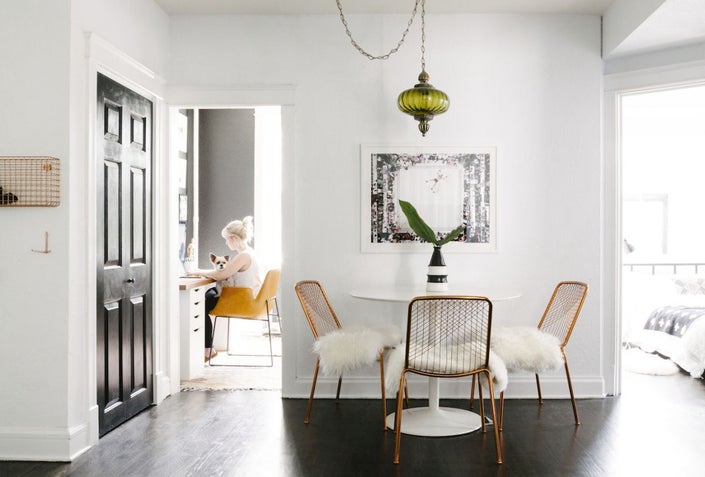 Working with an interior designer to craft your home decor is collaborative, empowering, and fun. Having your bedroom, living room, or dining room — really, any room in your house — professionally tailored to your needs can be a fulfilling and satisfying process from start to finish.
With some traditional designers working 1:1 only, however, these services may seem out of reach in the digital age and especially with COVID-19. They're also not particularly convenient; you have to make sure your schedule lines up with the designer's timetable. Before the project has even begun, you'll have to find time to have the designer come to your house to see the space.
But the online interior design process is changing the whole game, offering convenient and much more fun process with significant advantages brought by streamlined technology and the embrace of modern conveniences.
So what are the advantages of online interior design?
A flexible schedule — You don't have to block off a part of your day to meet with a designer and look over your options. Every correspondence with your designer takes place online, so you can engage with the project when it makes sense for your schedule, not someone else's.
Easy customization — Online home design provides all of the customizations you could get from a traditional designer without the hassle. An online designer provides choices curated to your tastes and needs, making it easy to incorporate your existing furniture or style preferences into the new design without spending hours in a store.
Quick feedback — Because online designers don't spend their days driving around to different clients' locations, they are often able to turn around feedback very quickly. They can make updates to a concept design based on your notes in just a few days.
Skilled sourcing — Having a creative and pragmatic idea for a room is only one part of the designer's job. Just as important as a designer's ability to find the best furnishing options for you, which is a strong suit of many online designers.
Boundless options — Working online means that you don't have to limit yourself to designers in your area. If the ideal partner for your home upgrade lives on the other side of the country, the magic of the internet makes it possible. With such a large pool of potential designers to choose from, you're well-positioned to find the person who best brings your style to life.

The burgeoning world of online design is particularly well-suited for the countless people who want a home to be proud of, to finally check redecorating off their to-do lists, to design the perfect space for their family or guests, or simply want the eye of a professional designer. Regardless of your location, style preferences, or design-savviness, you can now design the home you deserve.
yZiGN is the Boutique Online Interior Design Studio specialized in creating signature interior designs. We serve those who want something OTHER than what is available everywhere.
yZiGN is the sum of heartfelt design and forward business, Iwona Petrov + Alex Petrov.
Together they helm a versatile high-end interior design firm. Their meeting sparked one of a kind endearing journey. Having independently relocated to the US from Europe, the two found each other in 2006 to form their namesake design brand in 2010.
The yZiGN aesthetic is rooted in a broad spectrum of experiences and elevated by a spirit of inclusion and warmth, that's informed yet approachable. The two pride themselves, not on being the writers of the story, but rather, the editors – with each space defined by its owners' individual perspective, manifesting in pared-down, imaginative environments that are thoughtful, personal, and quietly clever.