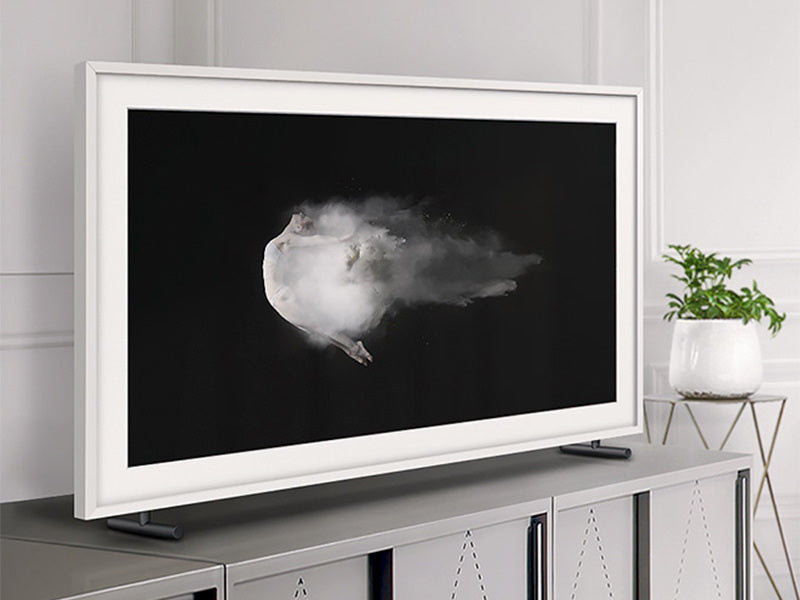 Interior design and home decor lovers strive for beautiful, personal spaces. The choices of colors, textures, furniture pieces and accessories are meticulously made. Quite often the appealing results are immortalized in photo shootings. However, there is often one piece in the living room that troubles the visual harmony: the TV. Often cut out of photos, hidden, or simply removed, this big 'black box' has been a challenge for most interior designers and home decorators. But those times are gone. Samsung has recently launched a TV called 'The Frame'. And the name is not only promising, but it is also a revelation for interiors!
For the first time, it is possible to seamlessly integrate a TV into an interior concept. With 'The Frame' the TV gets a whole new visual appearance in your home. Not only you get to choose a customized frame to fit your interior style, but you can also use the TV in art mode. What does this mean? It means that your TV turns into a decorative piece of art to enhance your interior style. And art mode does not mean choosing among five options like for a simple screensaver. It means truly art mode. With a wide variety of photography, graphic art, paintings, and even a whole line up of collaborations with world-famous museums and galleries (as part of an additional Art Store), you can truly make your TV a statement piece in your home. Have we mentioned you can also simply use one of your fab pictures as art?
'The Frame' offers also different options how to be presented: Like a classical art piece mounted on your wall (maybe as part of a gallery wall?), with the normal stand on a sideboard or with an additional studio stand, a gallery-like tripod.
The best part is that in art mode the TV regulates its brightness according to the light situation and a motion sensor simply switches off the art mode when nobody is around for a while. Smart and pretty cool.
If you have any questions, feel free to reach out to us here with any Interior Design Questions or click on the chat below. We will be happy to help!
yZiGN the Premier Interior Design firm in Bethesda, Chevy Chase & Potomac, Maryland. We specialize in creating exclusively personalized custom residential interior designs.