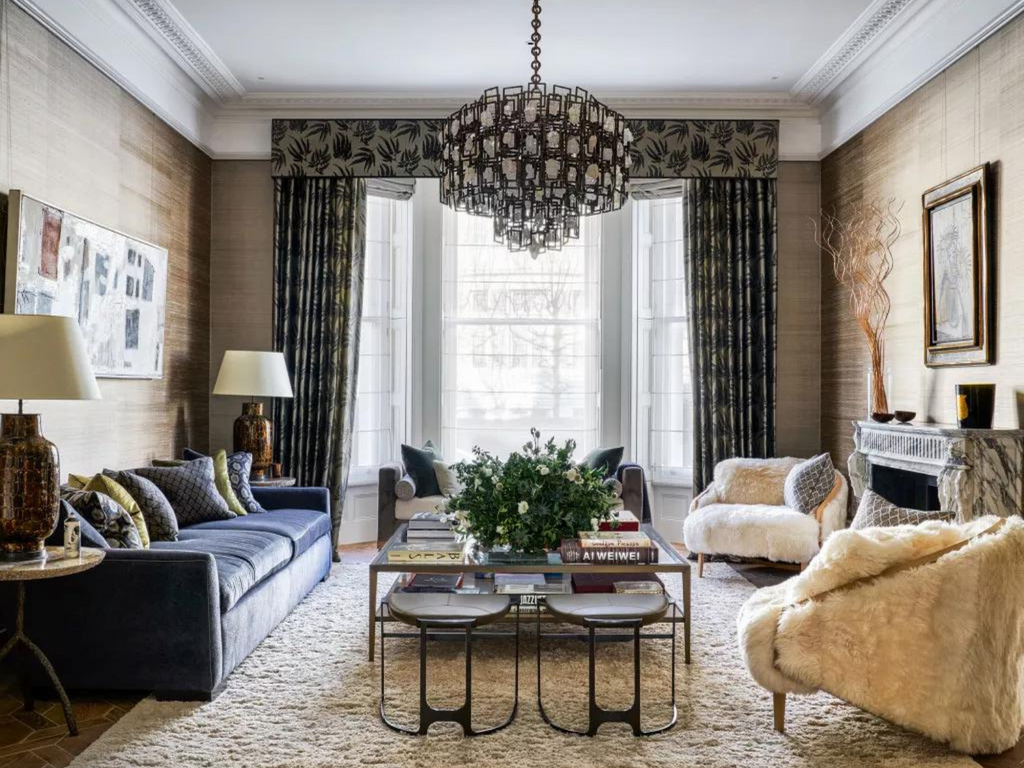 Infusing Warmth Into Your Home This Season
During the cold months, it's especially important to make sure our homes feel warm, comfortable and inviting. Luckily there are more than enough ways to create a warmer atmosphere in your home, whether by fabric or color choice, rearranging the furniture or purchasing a new statement piece. 
Cozy Fabrics And Mixed Textures
You can't go wrong with rich textures and cozy fabrics for a more relaxed and inviting atmosphere in your home this winter. A mix of appealing, soft textures make people want to come and stay a while, leading to feelings of warmth and comfort which affect the whole room. 
Velvet throws, woven puffs, furry fabrics and cozy rugs will all be welcome additions to your sitting room. Experiment with chenille, corduroy, furs, velvet, silk and wool. Using a richer fabric choice here and there can completely transform a space with little effort, or opt for a new plush furniture piece for a more dramatic look. 
Bouclé is another rich texture to try which has made a come back relatively recently. It comes from the French word meaning curled, and it's made from looped yarn. Read more about this fabric choice in House Beautiful, where you can also find some fun furniture picks to try in your own home.
Neutral Tones
Neutral, earthy color palettes naturally create a warm and comforting atmosphere which is perfect for colder weather seasons. This is because more muted, neutral tones are calming and soothing to our senses.
Try shades of brown, sand, grey, orange and green. These colors also incorporate elements of nature into the home, which generates feeling of wellness and peace. An added bonus - these color choices make it easy to design and update the space, since they won't clash as much as bolder colors choices. You can then add in pops of color here and there or switch pieces out for each season.
Inviting Entertainment Spaces
What better way to make your home more inviting than by designing a space with your guests in mind. Creating warm and inviting entertainment spaces is at the top of our minds as we get ready to host friends and family for the holidays.  
To set the right ambiance and make your guests feel welcomed, opt for lighting that is on the dimmer, warmer side or for dimmable lighting fixtures that can be adjusted for each occasion. Always use warm light over daylight bulbs for these spaces. 
Also, focus more on ambient lighting which fills the whole room and will lead to relaxation, while limiting spotlight style lighting. As lighting designer Randall Whitehead is quoted as saying in High Point Market's blog, "Downlight placement can spotlight artwork or other design elements, but should be avoided directly over seating areas."
All seating arrangements should allow for easy conversation, and there should be plenty of surfaces to set things down on. The room shouldn't be too cluttered and there should be ample empty floor space, to allow for additional seating if you need it and so your guests can walk around with ease. 
Make sure to include enough storage to make last minute cleaning before your guests arrive as easy as possible. To encourage expression and even more memories with your guests, invest in a pool table or piano, or even something smaller like a stylish table tic tac toe board like this one.
We can help you find the perfect gift this holiday season. Browse our whole collection of Designer Picks here or contact us today. 
yZiGN is a luxury interior design studio in Bethesda, MD that specializes in creating unique, signature designs for our wide variety of clients. We can help you design an entertainment room you'll be excited to show off, or transform your home so that it's holiday ready. Get started by reaching out to us today at our Contact Us page.