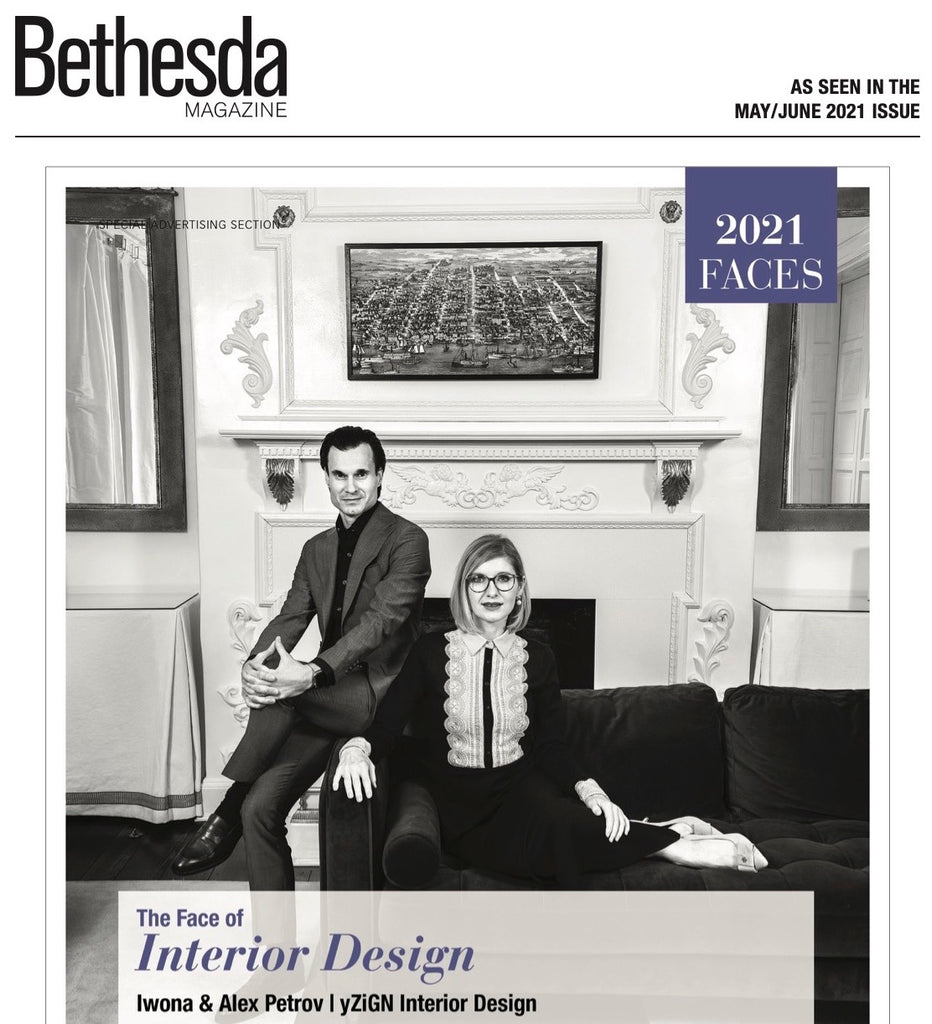 Bethesda Magazine "The Face Of Interior Design" Award!
We are honored to have received the
Bethesda Magazine
"The Face Of Interior Design" Award! 
yZiGN
 pledges to do our part and design Interiors that speak to your story; interiors that elevate your health and wellbeing.
Iwona and Alex Petrov are co-founders and together run yZiGN, a versatile high-end interior design studio in Bethesda.  Over the past 10 years they have enjoyed collaborating on a variety of high-end residential and commercial projects in locales such as Washington, D.C., Bethesda, Chevy Chase and Potomac, Maryland, and Alexandria and Arlington, Virginia.  Their background in architecture and interior design informs their work as designers, thoughtfully creating spaces with classic beauty and modern livability.
From the most intimate homes to the grandest residences, yZiGN takes bold design concepts and infuses them with style, sophistication and a sense of home.  Whether you are seeking the perfect piece of furniture or unique work of art, they create environments that reflect the personalities and lifestyles of their clients.
The two pride themselves on being the editors of your story—each space defined by its owners' individual perspective. The result?  Imaginative environments are created that are thoughtful, purposeful, and personal.  The yZiGN aesthetic is rooted in a broad spectrum of experiences and focused on clients' health and wellness, with interiors that reflect inclusion and warmth throughout the home.
What sets yZiGN apart from other interior design firms is their natural talent, collaboration process, attention to detail, and their desire to push creative boundaries in ways that respect and redefine traditional design aesthetics.  Iwona and Alex lead their team of designers to create spaces where their clients feel connected and comfortable at home. 
Connect with us at 301-718-8774 or Hello@yZiGN.com to get started on your next interior design project.  We would love to collaborate with you!   
Iwona and Alex Petrov  I  yZiGN Interior Design Studio  I  yZiGN.com