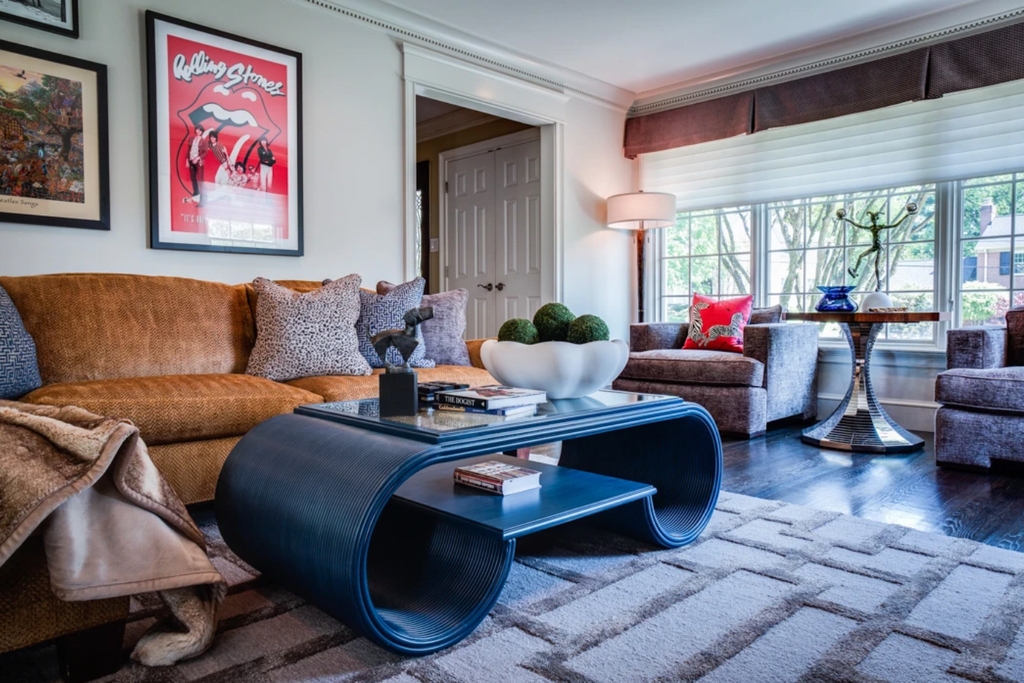 yZiGN's Bethesda, MD Project - Featured in Bethesda Magazine
Our lead designer, Iwona, worked closely with our client to redesign several rooms in her Bethesda, MD home.  From her kitchen to her living room every space incorporated some of their current home furnishings while incorporating new pieces to compliment their lifestyle and enhance the living spaces throughout their home.
This living room is a sophisticated playroom for family of all ages.  It features Century Furniture Club Chairs in gray fabric and walnut legs.  The Lexington Home Brand table is in the center of attention as it pairs a 12-piece radial matched Walnut veneer top with the graceful arc of a flared base in polished stainless steel.  The blue velvet chairs are sitting atop of a brass curved base, wrapping around your back. What an elegant way to entertain guests or enjoy game night with your family.
Our Client's award-winning galley kitchen is a combination of thoughtful interior design and exceptional details. Featuring beautiful gray cabinets by Mouser Cabinetry, artful stone, appliances by Sub-Zero, and a beautiful custom bench paired with the kitchen table.  The amount of storage created in this space with the custom cabinetry will surprise you. 
This hall bathroom is a beautiful combination of impeccable style and practicality.  It features a wall-to-wall mirror with mitered edges, a technologically superior shower door construction, a Bridgeport recessed Brookhaven vintage baltic sea vanity, a Caesarstone in London Grey finish, a Shale Bright Honed wall tile and premium KOHLER finishes. 
Our Client's dining room represents the in-depth custom approach yZiGN poses in our interior design projects. Space features CR Laine dining chairs in Monica Marigold color with premium Hamilton Spring-down cushions and handmade Italian ceramics with a two-glaze finish that requires a truly skilled hand.  Coils of hand forged metal create a whimsical wine bottle display, finished in gold leaf over a lightly antiqued silver leaf plaque.  The mirror is framed by smaller individual mirrors with beaded molding.  Morning Glory vines inspire this graceful collection of solid cast brass candleholders.  The table vines may be scattered individually across a tabletop or arranged into a sensuous tangle of vines.
Our yZiGN team enjoyed collaborating with our Client to redesign and repurpose this gorgeous Bethesda, MD home.  The final result is a beautiful collection of old and new pieces that truly compliments our Client's lifestyle and represents their personality.  See this yZiGN Interior Design Project featured in Bethesda Magazine.
For more information about yZiGN, please connect with us at Hello@yZiGN.com