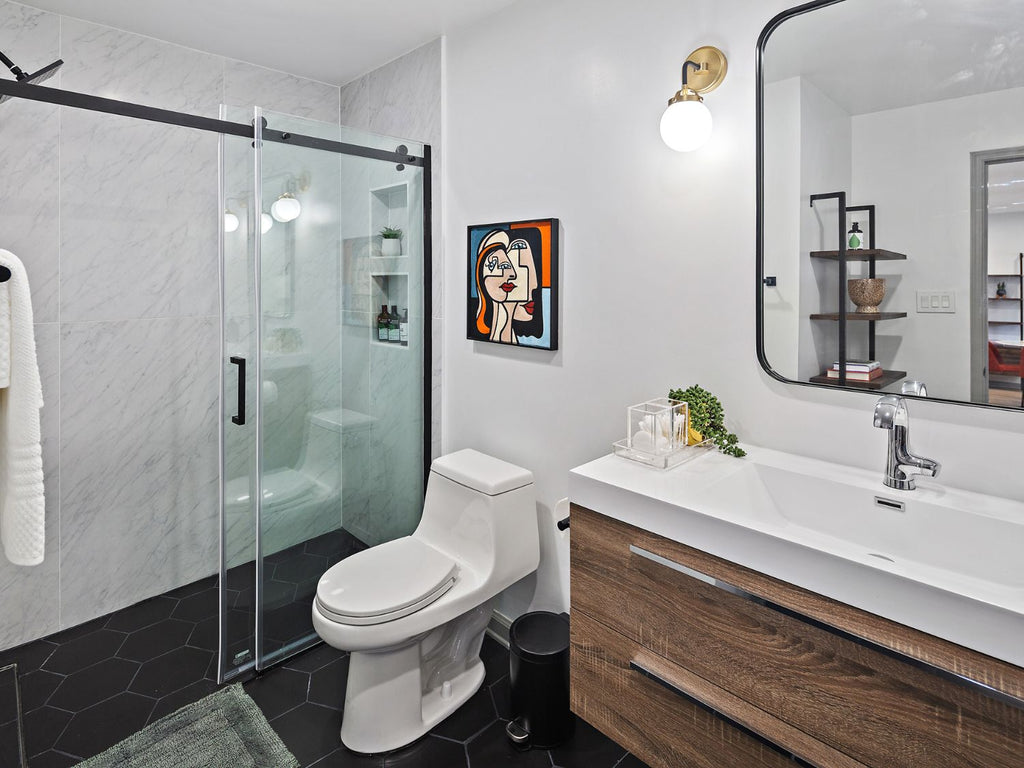 Bathroom Renovation Tips For Success
Bathroom renovations can be some of the most rewarding interior design projects to work on, whether you're looking for more space, a new shower and bathtub set up, or a completely new look. 
When it comes to bathroom renovations, planning and more planning is the way to go. This is the best way to get yourself the bathroom you've been dreaming of - instead of the one you ended up with. The yZiGN team put together a step-by-step guide to bathroom renovations, which is in alignment with our process and that will set you up for success. Let's dive in.
1. Find Inspiration
The first step to any successful renovation project is finding inspiration for your design. You simply can't skip this step if you want to be happy with the final result, and besides, this part is fun! Take your time and look through plenty of images on Pinterest, Google and Interior Design websites like Houzz, until you start seeing a pattern of what bathroom styles consistently look attractive to you. 
If you don't thoroughly do research during this step, you run the risk of being talked into a design by a sales representative or basing your design on what everyone else is doing, which could lead to major disappointment down the road.
Digging into the inspiration for your new bathroom will also bring you the confidence you need to move forward and make all the decisions necessary that pop up during a renovation, without too much hesitation. For example, you should be able to choose between a bathtub, a shower or both relatively easily after you complete this step, or which color scheme or tile pattern to go for. 
2. Determine Your Layout
Once you find out what you do and don't like, it's time to determine the layout of your new bathroom. This can be the most challenging step, but step one should have helped you get an idea of what you're looking for - so you're equipped and ready for the job.
Space, scale and flow are everything. As Better Homes & Gardens points out well, you'll need to choose between a one, two or three-wet-wall layout depending on your budget and desired design. 
A modern bathroom renovation with a one-wet-wall layout. Credit: Houzz
Now is also the time to determine your must-have elements versus your nice-to-have items. Try to keep your must-have's list relatively short to prevent unnecessary overwhelm, which can steal all the fun away from your renovation.
3. Involve An Interior Designer
We highly recommend hiring an interior designer to either complete the renovation or serve as a consultant for your project. This is an important investment strategy because a bathroom makeover will likely cost you tens or hundreds of thousands of dollars, and you want to be sure the money you're spending is well-spent, and that the choices you make won't backfire later on.  
As a design consultant, their job will be to go over your ideas, suggest alternatives if needed and help you make smart decisions. They can also be very helpful with determining where things should go based on plumbing drains and water lines - and when deciding on the one, two or three-wet-wall layout, in order to avoid costly mistakes.
A bathroom renovation
project
the yZiGN team completed in Bethesda, MD.
Here at yZiGN, we've helped many clients complete successful bathroom renovation projects and we offer both design and consultation services. Contact us to see how we can help you.
4. Visit Stores & Test-Drive Samples
By now you should be able to communicate to a sales associate what you are and aren't looking for, and it's time to go shopping. You don't necessarily need to make any purchases yet, but it's the perfect time to go test drive some of your selections. Sit in the bathtub and make sure the length and height is right, or get an in-person look at some of the tiles you're interested in - preferably both.
You don't want to regret your purchases later on just because you didn't test them out prior to buying. Visiting stores and previewing selections ahead of time will also help you to prevent overwhelm when you're presented with other decisions you must make during your renovation. Make sure you have the basics and most important items figured out by this point.
Several bathroom renovation projects completed by yZiGN. Read more about the project on the right here, completed in Bethesda, MD.
5. Contact A General Contractor
After you've worked out all of your design details, it's time to call the general contractor. We believe it works best to get in touch with a GC after you have all the details worked out, because having all this information sorted out that you need for the final price will prevent constant changes of orders down the road and wasted time. Knowing the final numbers before getting started is also very important for preventing stress and complications. Keep in mind that after speaking with the GC some things may need to be adjusted slightly, especially for more complex jobs, and this is normal. 
You now have a complete, step-by-step guide for how to successfully design a bathroom renovation.
We're excited to announce that yZiGN was recently featured in Top Rated Local as one of Maryland's Top Interior Designers! Don't hesitate to get in touch with us for help on your next bathroom remodel, or anything else interior design.