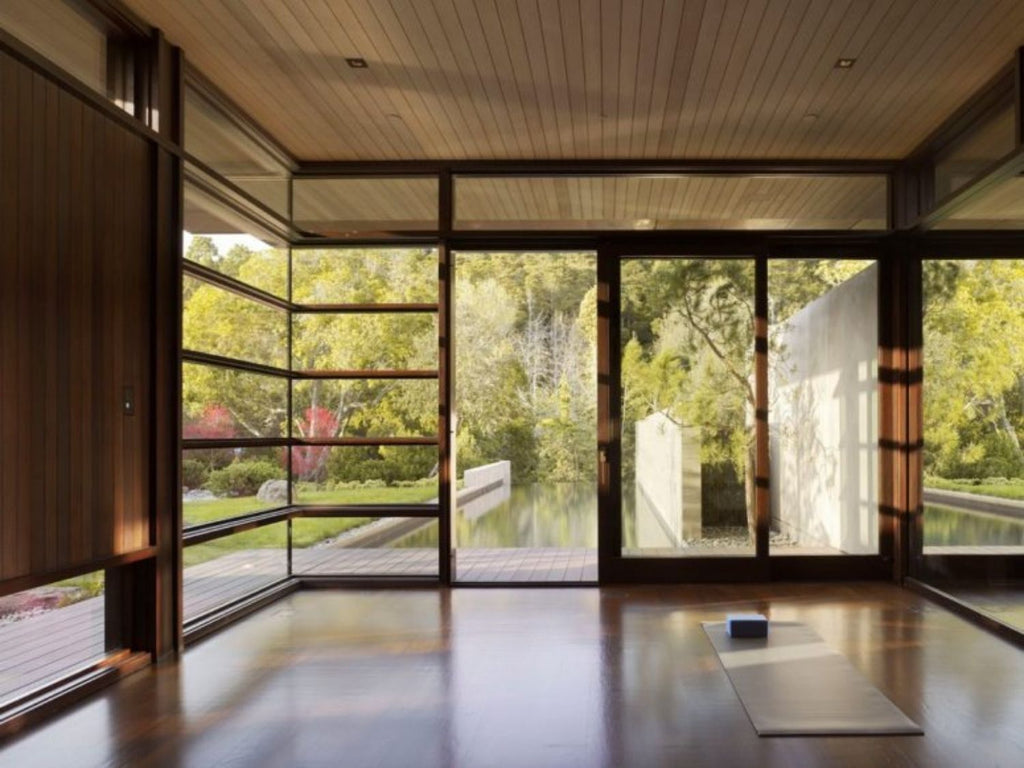 How To Stay Centered In Your Home
There's nothing more comforting than coming home to a space that feels grounding and peaceful, when what's happening around the world feels anything but. The heartbreaking events that are occurring in Ukraine hit close to our home countries, and as the world feels off-kilter, we are taking you on a journey into some rooms that will help keep you grounded in your home. 
The Yoga Sanctuary: How to Design A Yoga Room
Create healthy change and build your body by adding a yoga room to your home.  
Yoga isn't your typical exercise routine. What sets yoga apart is its uniquely holistic approach it takes to strengthen your body, mind, and soul all at once. For many, yoga serves as an important retreat from a chaotic life; a time to regroup, unwind and build mindfulness. 
Decorating your yoga room
Your yoga room should be completely free of clutter, so that it feels like a refuge from the chaos of the outer world and allows for internal peace. When it comes to a yoga room, less is more. Be very intentional with what items and decor you include. Only leave those that are either functional or beautiful, or both, and bring some of your personality into the space.  
This beautiful silver stamped credenza makes a perfect piece to store yoga mats, herbal tea, or to hide any items that may feel like clutter if left out. 
Setting the mood
The room should have dimmable lighting, so that the mood of the room can be altered depending on the time of day and your intentions for your practice that day. Lighting has a huge effect on your mood, energy, and overall wellness. Drapes are also a great tool to soften and brighten a space.  
Take advantage of any natural lighting you have which makes the room feel more open, airy and natural. If you have a room in your home with large windows that let in lots of light, you may want to consider making it your new yoga space. Read our blog on brightening up your home for tips on how to bring in more light. 
Mirror, mirror on the wall
Whether you are a beginner to yoga or have been practicing yoga for years, a well-placed full-length mirror or mirror wall is the perfect way to check your technique and perfect your practice. Plus, they can add some style to the room when you choose the right piece! 
Meditation Zen Den: Interior Design Tips For Meditation Spaces
A Zen Den is a safe, quiet, designated spot in your home where you can take a breather — be mindful, meditate, and relax without interruption. Your quiet room can function as a meditation space or simply a quiet place to take a breath and retreat from your hectic day. 
Satisfy your senses
Stimulating each one of your senses in a pleasant way is the best way to bring yourself into the moment, which is what meditation and mindfulness is all about. 
Sight can help to cultivate mindfulness. Opt for paintings and wall art that help you feel spiritually connected and create a calm visual atmosphere. Art with natural objects as subject matter work especially well, such as beautiful stones or carved wood. Learn more about the benefits of using natural elements in design at our blog here. 
Be careful with the colors you choose to use. For example - hues of blues will aid your calm mood, while bold and bright colors may make you feel distracted. 
Featured in Architectural Digest, this Japanese inspired meditation room uses natural elements throughout. 
Our olfactory senses are a powerful trigger for both memories and moods. Different scents can inspire feelings of calm. Scented candles, oil diffusers, and incense holders are all great ways to set the tone for a more calming meditation. Lavender is a popular scent that helps to promote relaxation. 
Different sounds and auditory cues quickly shift your mindset and can inspire positive emotions. Tibetan bells and singing bowls are visually beautiful and great for chiming at the beginning of your meditation.  A water fountain is another great way to infuse your meditation room with calming, soothing sounds to aid your practice. 
Take touch into account when designing your meditation space. Amp up the cozy factor, but make sure not to make it so cozy you fall asleep if your intention is to stay awake during your meditations! Include a favorite chair or comfortable mat that is soft enough for your bare skin and won't cause soreness over time. Plushy cushions or a favorite blanket can be added for even more comfort. 
A mug of herbal tea is a great way to unwind after a stressful day or a meditation session, and adds a way to satisfy your sense of taste, to bring you even more into the present moment. Set out a mug with your favorite herbal tea and place it where you can easily reach it. Or, water infused with lemon and mint is an excellent option to stay hydrated and help you to feel centered during your practice. 
Reading Nook: Designing Your Perfect Reading Nook
Last but not least, reading nooks are another great way to help you unwind from your day and help you feel centered as you step away for an hour, or three - especially for those that love to read. 
The first step in designing your perfect reading nook is deciding how you want to be positioned as you read. Some like to be seated in their favorite armchair with more support, while others would like to be laying down. If you aren't an armchair type of person, consider transforming an awkward corner of your home into your reading sanctuary by adding a day bed and built-in storage. 
Book storage
Whether you prefer bookcases or for your books to be hidden, you'll need somewhere to store your novels. Bookcases shouldn't be completely filled, to prevent feeling too busy or chaotic, and can hold pieces of art or décor that make you smile. Another option is to hide your books and make the space look cleaner and calmer. To do this, opt for an armoire or built-in storage, perhaps underneath your reading bench. 
This reading nook featured on House Beautiful is a beautiful example of a custom-made reading corner. 
Free of distractions
Make sure your reading nook is placed somewhere that will be quiet and as free from distraction as possible. You'll also need to include a few essential items to make your reading nook feel inviting and cozy enough to lure you away from your iPhone or to-do list. Cushy throw pillows, soft woven throw blankets and a stylish floor lamp will do wonders.  
Our Hearts Are With Ukraine
As we unwind each day and are grateful for the blessings in our life, we are saddened by the devastation that has hit Ukraine. We would like to share some resources for ways our community can help those who are suffering. Our hearts go out to the people that have been so tragically impacted by this, and we're watching very closely with hopes this gets resolved as soon as possible. Here are some ways you can help: 
KIDSAVE
Kidsave has a team on the ground, working tirelessly to secure passenger vehicles, fuel, food and shelter to move thousands of kids and families safely out of Ukraine and deliver relieve supplies. Donate here. 
REVIVED SOLDIERS UKRAINE
Revived Soldiers Ukraine is an organization that funds medication and medical supplies for field and army hospitals at the front lines of eastern Ukraine. Revived Soldiers Ukraine was founded in 2016 and has since brought 50 wounded Ukrainian soldiers to U.S. hospitals for care. Donate here. 
INTERNATIONAL RESCUE COMMITTEE
International Rescue Committee is a nonprofit that helps people affected by humanitarian crises, including the climate crisis, to survive, recover and rebuild their lives. Donate here. 
VOICES OF CHILDREN
Voices of Children helps children affected by the war in eastern Ukraine. Thanks to you, we provide psychological and psychosocial support to children. It helps them overcome the consequences of armed conflict and develop. Donate here. 
DIRECT RELIEF
Direct Relief is a Santa Barbara-based organization that distributes donated medicine and medical supplies. The organization has supplied Ukrainian healthcare providers with more than $27 million in medical aid. Donate here. 
Thanks to everyone who is able to donate and help out. We are personally grateful.